Facebook Influenced Elections in 66 Countries
Reporting reveals that Facebook has deployed its «I'm a voter» feature in 66 countries. Now the company plans to use the controversial tool during the Swiss national elections in 2019.
Von Adrienne Fichter (Text), Charles Hawley und Daryl Lindsey (Translation), 16.05.2018
Journalismus, der Ihnen hilft, Entscheidungen zu treffen. Und der das Gemeinsame stärkt: die Freiheit, den Rechtsstaat, die Demokratie. Lernen Sie uns jetzt 21 Tage lang kostenlos und unverbindlich kennen:
The date is still a long way off: Oct. 20, 2019. That's when the Swiss will head to the polls to elect a new parliament.
The parties are already getting ready, with candidates positioning themselves for their campaigns. And the Swiss election is even an issue in Berlin. Not in the Chancellery, but at the Sony Center at Kemperplatz 1, where Facebook's public policy department is located.
The Schweiz am Wochenende newspaper recently reported that Anika Geisel, who heads the department, was in Zürich on April 11, where she held a meeting with 20 politicians from all parties. The topic of the meeting was how candidates could benefit from Facebook's campaign tools. It was intended as a promotional event for the technology company, which already in the past provided political consulting to Bastien Girod, a member of the Swiss National Council, the lower house of the Swiss legislature (a fact which the company touts in its digital brochures).
One participant asked a question that had nothing to do with the marketing tools. Would Facebook be deploying its well-known «I'm a voter» button in Switzerland? Yes, Geisel answered, the company was working on it.
Facebook, in other words, is expected to bring one of its more controversial political offerings to Switzerland. No other Facebook feature represents such a blatant interference in national elections. No other symbol has triggered a larger contagion effect on the internet. And no other feature has caused as much confusion within the net community.
At issue is a small blue symbol that serves to remind us of our civic duty while showing us which of our Facebook friends have voted. It appears out of nowhere – and disappears just as quickly.
The symbol always looks a little different. Sometimes, it's a megaphone. At others, it's a hand placing a ballot into the box. At still others, it's a banner with large letters on it. The company has «experimented» with it repeatedly. By doing so, however, it has interfered with elections, conducting open-heart surgery on vulnerable democracies and undermining national sovereignty.
The company long remained quiet about this controversial feature, with hardly any official statements about the use of the election reminder tool. A list from Facebook made exclusively available to Republik shows that the social network has deployed the «election reminder» in 66 countries, including Kenya, Sierra Leone, Tunisia, France, Iceland, Malta, Australia and Colombia.
And now, the «I'm a voter» button is planned for 2019 to help remind the just under 4 million Swiss Facebook users to get out and vote. The federal government in Bern is alarmed.
But why does a digital reminder to vote represent a threat to democracy in the first place?
Skyrocketing Voter Registration in the U.S. Election
Just look back at Sept. 22, 2016. It was the final leg of the U.S. election campaign. Rumors about Hillary Clinton were circulating on the internet: that she was sick; that she had ordered the murder of an FBI agent; that she was involved in a ring of pedophiles. It was boom time for fake news.
And yet interest in the election remained low. There was little change in the number of people registering to vote. In Colorado, just under 3,000 people registered to vote on Sept. 22. In Washington state, that figure was 2,170, and just 1,839 in Minnesota.
One day later, on Sept. 23, a prominently placed window popped up on all American Facebook profiles. «Are you registered to vote? Register now to make sure you have a voice in the election.»
Seventeen simple words displayed on a colorful background. Election officials couldn't have imagined what would then happen in their wildest dreams. The number of voter registrations skyrocketed. In Colorado, the number increased that day to 20,172 people. In Minnesota, it was 26,742, and 12,985 in Washington. Every state, with no exceptions, reported a surge in registrations.
On Sept. 24, the window disappeared again, the registration curve flattened and the Facebook effect had passed.
Civil society cheered the development. Brian Kemp, Georgia's secretary of state, was pleased. «I applaud Facebook for joining our efforts to increase voter registration awareness,» he said in a statement in September 2016.
Treating Voters Like Lab Rats
But some observers were a bit queasy, including Micah Sifry, a democracy activist and the editorial director of Civic Hall, a web portal that provides daily analysis of politics and technology. Sifry was the first person to issue a warning about Facebook's experiments on democracy and the huge discomfort he felt over the massive influence on an election that a private company could have.
For good reason, too, given that the company has treated voters like laboratory rats in the past. Facebook split the electorate into three groups. Some received the election reminder together with their entire network of Facebook friends. Others didn't get anything at all. And for the third group, the feature popped up, but without any information about the behavior of their friends.
Facebook conducted ceaseless A/B tests as the election campaign proceeded.
That happened back in 2010 during U.S. congressional elections, when the company conducted simple social psychology tests. For example: What do you do when you find out that your Facebook friends are politically active? Or when a social network calls on you to get out and vote just like your friends have done. Of course, you also want to be a part of taking your civic duties seriously and acting as a role model.
One of the key findings of a study on the congressional elections published in 2012 by the scientific publication Nature was that peer pressure is decisive in our decisions. It concluded that it was not necessarily the reminder that was key, but rather the feeling that one's Facebook friends would also be voting. The report confirmed the network effect.
Some 61 million American users unwittingly took part in the 2010 experiment. Of those, 340,000 only voted «because» of the experiment, claims Robert M. Bond, a political scientist formerly with the University of California who led the experiment together with Facebook. He then repeated the experiment during the presidential elections in November 2012.
When news of the second experiment broke in 2014, Bond even admitted it was possible that the mobilization effort might have provided a minor boost to Barack Obama that year because Facebook at the time was used more by women and younger voters, both of which groups counted among Obama's core supporters.
Little Public Traction
Perhaps the results weren't particularly spectacular at first glance. Perhaps it was the concurrently published results of a Facebook experiment in which the company manipulated 700,000 people to see how they were influenced by good and bad news. Perhaps it was simply a product of people paying less attention to the news in the middle of the summer.
Whatever the cause, the results of Bond's research didn't gain much traction with the public.
But Sifry was worried. «Why Facebook's ‹Voter Megaphone› Is the Real Manipulation to Worry About,» reads the headline of an essay written by the political expert. If a television station were to broadcast a get-out-the-vote appeal to male viewers over 40, there would be considerable outrage. But with Facebook, people just seem to accept it.
Sifry warned that the election reminder poses the greatest threat of manipulation because it is provided by a company that has no accountability for its experiments on the democratic process.
The company still markets its election reminder as a service to governments. «We believe that commitment and participation are the lifeblood of democracy», a Facebook spokeswoman said when contacted by Republik. «That's why we show people a reminder to vote on Facebook.»
And because the company finds it important, it simply takes action – without any further discussion and without even informing the authorities or bringing in election researchers. Move fast, break things. In politics as well. That served as the internet giant's company mantra for years.
When he first published his essay in 2014, few took Micah Sifry seriously. A mere handful of scholars pushed for a review of Facebook's experiment.
And the company responded, just not in the way one would have expected.
Facebook sealed off the efforts of its research center. This made it impossible to verify scientifically if the figure of 340,000 given for the number of voters who registered was accurate. Facebook refused to release the data.
«The ‹I'm a voter› button would actually be a good example of civic engagement if Facebook were to simply make the process behind it transparent,» says Sifry.
Democracy Service - Free of Charge
What followed was a clever PR move. In summer 2014, Facebook announced it would deploy the «I'm a voter»-button in all countries, in all elections, in all languages, to all users. With no exceptions -- and no experiments. Facebook even changed its company mantra to «move fast with stable infra,» e.g. infrastructure.
Yet despite this charm offensive, criticism of Facebook's political ambitions has continued to grow in recent years, as have doubts about the company's business model. Recent media revelations that Cambridge Analytica scraped Facebook data from tens of millions of unwitting users haven't helped. And it has increasingly looked as though the company is losing control of its own advertising system.
Suddenly, Sifry was no longer a lone voice.
One research organization, the Oxford Internet Institute, contacted Facebook's experiment department to request data pertaining to British parliamentary elections in 2015 and 2017 and to the 2016 Brexit referendum.
But Facebook executives chose to ignore their requests. Rob Sherman, the company's deputy chief privacy officer, made it clear that doing so would be violating the confidentiality of advertisers. Helen Margetts, head of the Oxford Internet Institute, was not impressed by this stance. «We absolutely need the data from technology companies, because the forming of political opinions primarily takes place in social networks,» she says. James Grimmelmann, a law professor and technology expert, noted back in 2015 that better ethical oversight in the form of a review board is necessary for experiments performed by platform operators.
A few weeks later, Facebook did violate the confidentiality that it had earlier been so eager to protect. The company's own review of Russian influence during the 2016 election campaign in the U.S. triggered such outrage in Washington that top lawyers from leading technology companies were asked to testify before Congress. Suddenly, Facebook showed its cooperative side.
Rumors and Myths Surrounding the 'I'm a Voter' Button
In a Sept. 21, 2017, video, Facebook founder Mark Zuckerberg laid out the measures his company was taking to respond to the widespread concerns. Point No. 6 pertained to cooperation with election authorities. «Sixth, we will expand our partnerships with election commissions around the world ... and now we're also going to establish a channel to inform election commissions of the online risks we've identified in their specific elections», Zuckerberg said.
It appeared as though attitudes were changing in Menlo Park, California. Finally, the company seemed to be aware of the responsibility it bears. Finally, the company was working together with the authorities.
But in Zuckerberg's speech, he said nothing about the «I'm a voter» button. Since the 2014 statement, it has never again been mentioned by Facebok on its official website. There is no other Facebook feature that is shrouded in such secrecy.
If you ask your German and Austrian friends about the button, some will say that they saw it during their respective parliamentary election campaigns in 2017, while others will reply that they did not.
The myths surrounding the button have been fed by its fleeting nature. For some users, the election reminder disappears again after an additional click. In Facebook's own forums, users from all over the world speculate what exactly is behind the button. Some wanted to remind their friends to go vote, but the function could suddenly no longer be found.
One user named Mark Smith asked: «How can I get the 'I'm a voter' button to appear again?»
Many others apparently had the same experience. A user named Joe Gillespie wrote: «Epic fail. THIS IS RIDICULOUS.» Another named Ali Hüseyin Rüstem wondered: «Mr. Zuckerberg where are you?». The discussion was closed by Facebook without comment.
The Facebook spokeswoman insisted that the function was made available to all users. The button, she said, was displayed everywhere, unless users were running an outdated version of the app or spoke an exotic language.
In other words, technical limitations were to blame.
Sifry will only believe it when he sees the numbers. On paper. And when election researchers around the world have access to the data.
For as long as the company doesn't work with external authorities, Sifry says, it is impossible to know with certainty how Facebook deploys the button. And he's right. After all, we know from Bond's research that different varieties of this «election reminder» lead to different user behaviors.
Where Is the Outcry?
Political microtargeting, fake news, troll armies: All of these issues have received plenty of media attention in recent years, even though their effects are the subject of intense debate among political scientists. But the effects of the "I'm a voter" button have been established to a greater degree than any other Facebook phenomenon. That much became clear from the tidal wave of voter registrations in September 2016. Because the buttons linked to the corresponding websites of the election authorities, the number of registrations increased by a factor of 10, and it some cases as much as a factor of 20.
The company long remained quiet. But since the announcement that it would work together with researchers more closely, it has also become more transparent on this point. In response to a query from Republik, Facebook assembled an exclusive list of countries where the "election reminder" button is used. It was used during the Scottish independence referendum and during parliamentary elections in Brazil, India and Indonesia. With the exception of Russia, Facebook has used the button to influence voter turnout in a total of 66 countries where elections have taken place since 2014.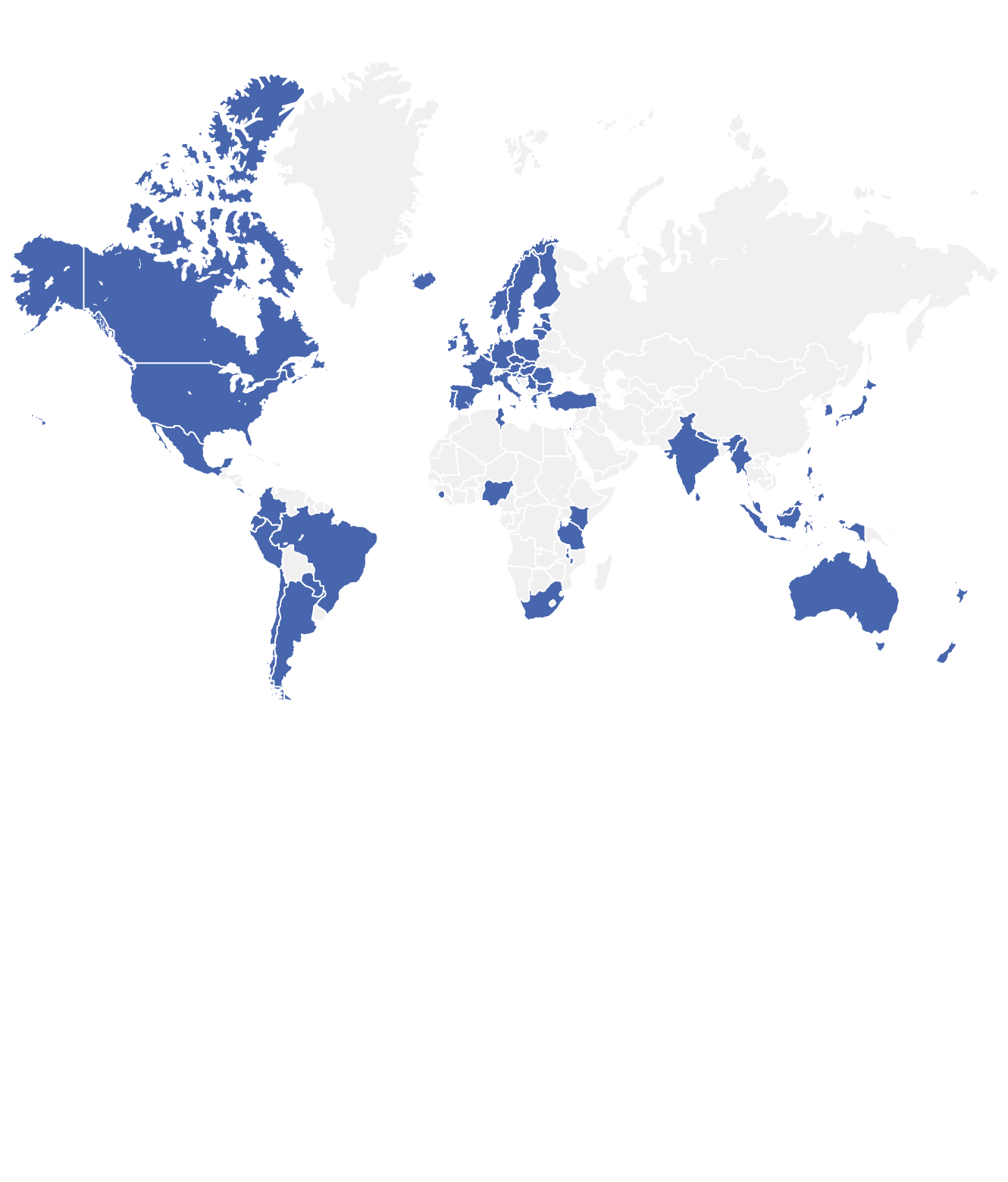 Countries where Facebook used the «I'm a Voter» button
Africa
Kenya, Malawi, Nigeria, Sierra Leone, South Africa, Tansania, Tunisia
Asia
Hong Kong, India, Indonesia, Israel, Japan, Korea, Malaysia, Myanmar, Nepal, Philippines, Singapur, Sri Lanka, Taiwan
Australia
Australia, New Zealand
Source: Facebook Germany Public Team
Europe
Austria, Belgium, Bulgaria, Croatia, Cyprus, Czech Republic, Denmark, Estonia, Finland, France, Germany, Greece, Hungary, Iceland, Ireland, Italy, Latvia, Lithuania, Luxembourg, Malta, Nederlands, North Cyprus, Norway, Poland, Portugal, Romania, Sweden, Serbia, Slovakia, Slovenia, Spain, Turkey, United Kingdom
South America
Argentina, Brasil, Chile, Columbia, Costa Rica, Ecuador, Mexico, Paraguay, Peru
North America
Canada, United States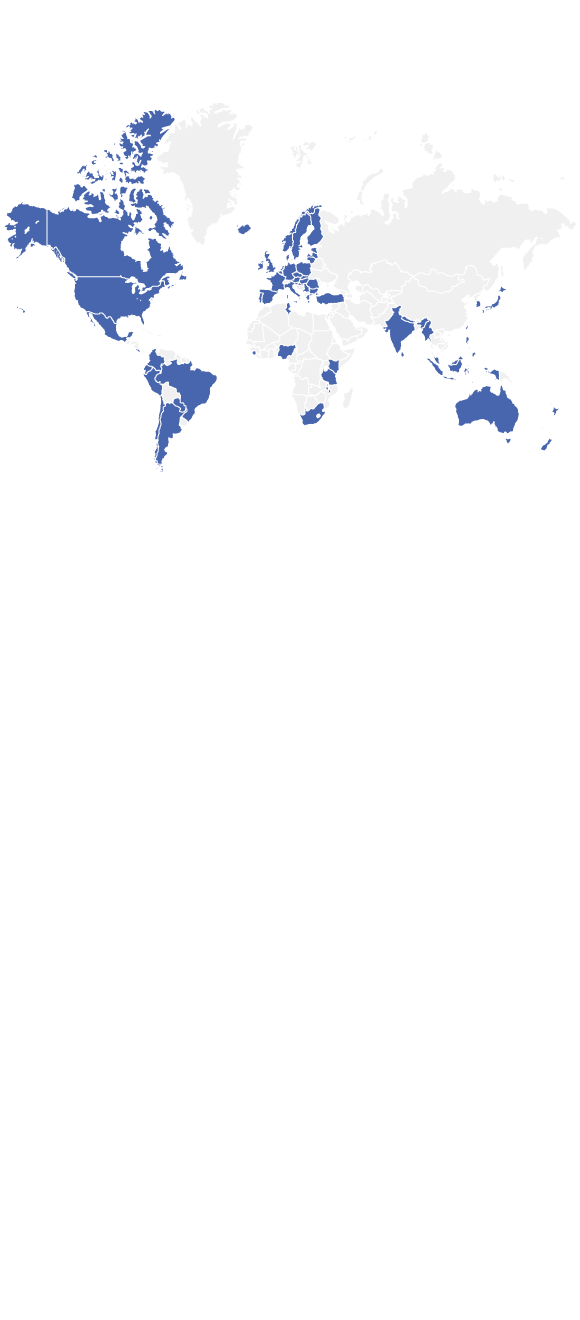 Countries where Facebook used the «I'm a Voter» button
Africa
Kenya, Malawi, Nigeria, Sierra Leone, South Africa, Tansania, Tunisia
Asia
Hong Kong, India, Indonesia, Israel, Japan, Korea, Malaysia, Myanmar, Nepal, Philippines, Singapur, Sri Lanka, Taiwan
Australia
Australia, New Zealand
Europe
Austria, Belgium, Bulgaria, Croatia, Cyprus, Czech Republic, Denmark, Estonia, Finland, France, Germany, Greece, Hungary, Iceland, Ireland, Italy, Latvia, Lithuania, Luxembourg, Malta, Nederlands, North Cyprus, Norway, Poland, Portugal, Romania, Sweden, Serbia, Slovakia, Slovenia, Spain, Turkey, United Kingdom
South America
Argentina, Brasil, Chile, Columbia, Costa Rica, Ecuador, Mexico, Paraguay, Peru
North America
Canada, United States
Source: Facebook Germany Public Team
But there has been no great outcry. The international community has yet to exert any pressure on this issue. Washington doesn't have it on its radar. During Zuckerberg's April 10 hearing, not a single senator asked whether and in what form this controversial function would be used again.
Nation States Must Make Demands
The reactions in countries where the button has been deployed can be divided into three categories:
Submissive, because they were happy that Facebook helped get out the vote.
One example here is former British Prime Minister David Cameron, who sought Zuckerberg's attention in 2016 and hoped that the «election reminder» would encourage younger voters to participate in the Brexit referendum and vote against it.
Or former Brazilian President Dilma Roussef, who agreed in 2015 on a partnership with Facebook to expand broadband access in the country because she hoped the project might help save her presidency.
Indifferent, because they didn't react at all despite being informed. The Federal Agency for Civic Education in Germany is a prime example. Facebook informed the agency, but there was no further cooperation on the project. The reason: Nobody knew what to do with the data.
Clueless, because they were never contacted by Facebook. In response to a query from Republik, the Italian authorities replied: «We are not aware of this action. There was no information provided by Facebook.»
Swiss Chancellery Uninformed
Now, the election button is to be deployed during the week ahead of Swiss elections in October 2019 to remind voters to head to the polls. But officials in Bern have not been officially informed by the company.
«The Federal Chancellery has no knowledge of Facebook's intention to deploy an 'I'm a voter' button in Switzerland. Facebook has not contacted us regarding this matter,» René Lenzin of the Swiss Chancellery told Republik.
The Facebook spokeswoman assures that nothing has yet been decided and that the company will establish a dialogue with the officials responsible when the time comes. She adds that the company intends to steer clear of referendums in Switzerland for the time being.
Senior Swiss data protection official Adrian Lobsiger doesn't want to wait. Too much of his agenda is currently determined by issues associated with Facebook. «There are some digital data processing instruments that could be used for the purpose of influencing voting behavior», he says. Voters need to know about them, Lobsiger adds, and politicians need to be made aware of them. To that end, he is currently assembling an interdepartmental group of experts, which plans to meet for the first time at the end of May.
Switzerland can learn from the mistakes and shortcomings of other countries. And it can make demands. Including that Facebook make its data available to Swiss political research institutes.
Political scientist Micah Sifry welcomes the preparations being made in Switzerland and is advising officials to insist that external experts be engaged. «It is important that the government work with independent actors, before, during and after the election,» he says.
It would be best to get it in writing – as soon as possible. Otherwise, Switzerland could be facing the same painful experience that other countries have already lived through. Move fast, break democracy.